#6 BECAUSE YOU ARE WORTH IT!
Een eindje geleden postte ik een foto op de EL.AGE.EF facebookpagina van mezelf met de oorbellen die Daouda gemaakt had voor mijn moederdag. Zijn volledige liefde en fierheid had hij hierin gestopt. Weliswaar waren ze op het eerste zicht niet meteen draagbaar. Ik wou hem niet ontgoochelen.
Met mijn volledige liefde en fierheid wou ik samen met hem iets anders creëren. We hebben de oorbellen letterlijk en figuurlijk draagbaar en waardevol gemaakt. Het stukje van Daouda kon ik behouden, de rest heb ik in 18kt gouddraad/ketting opnieuw gemaakt. Een uitdaging want ik wist niet hoe zeer het stukje van Daouda tegen de warmte van het smelten zou kunnen.
Zo vaak zag ik tijdens mijn studie juwelier-goudsmid aanvragen passeren van mensen die een juweel willen maken als herinnering aan iemand die overleden is. Dat is goed! Sta ik open voor. We mogen onze geliefden koesteren. Maar hoeveel te méér zouden we dit al kunnen doen terwijl ze nog leven.
Met fierheid draag ik de oorbellen die mijn lieve zoon gemaakt heeft. Voor altijd koesterend … bij leven en welzijn, …
Zie het verhaal in zijn volledige context op de blogpost: You are worth it!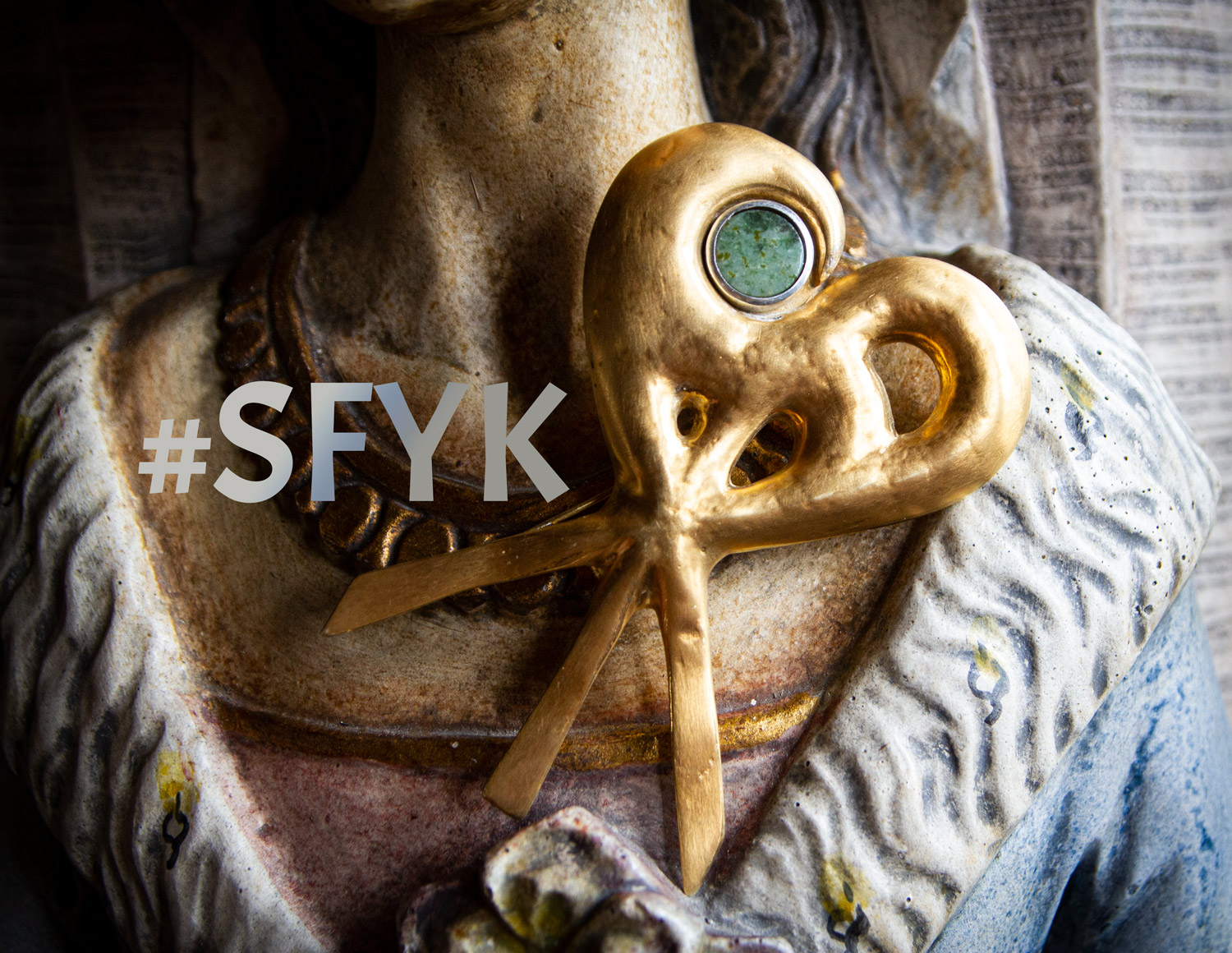 EL.AGE.EF: what's in a name?
Some, who knew of my plans to start this label, asked me where this weird name comes from, what is the icon and what is the meaning of the slogan?
All this will be answered on this page! ;-)
EL.AGE.EF =
the first meaning is: LHF, what stands for LOVE, Hope&Faith, referring to one of my three favo biblical verses: 1Cor 13:13: So now faith, hope, and love abide, these three; but the greatest of these is love. As i still want to use the name LOVE, Hope&Faith for other future projects, i needed and other name for the jewelry and clothing brand.
the second meaning is: EL = Elohim, AGE = of all ages, EF = into everlasting, referring to the One to whom I owe my life.
The ICON =
stands for a dove flying down from above - a picture for the Holy Spirit coming down, wanting my pieces to be H.S.inspired. in an other way it stands for a gem set in a jewel.
Omnes aves unique =
the slogan says: only for the unique birds:
- on the one hand referring to the H.S.dove
- but on the other hand making a link to these unique handmade pieces, that are designed for people searching for special things/stuff to give to themselves or to others, ...
They know that those who wear it are unique! That's why i dare to state: only for the uniques!
(though we all know that every person on this planet is unique, we do not always live like each one of us is unique, let's start a movement to find back our unique selves!)
greetz and let me know what you think, with love, wiesje
P.S. it doesn't matter how you pronounce the name, you can also be unique in that way! ;-)