Ligne Pure carpets - work experience - 2006-2009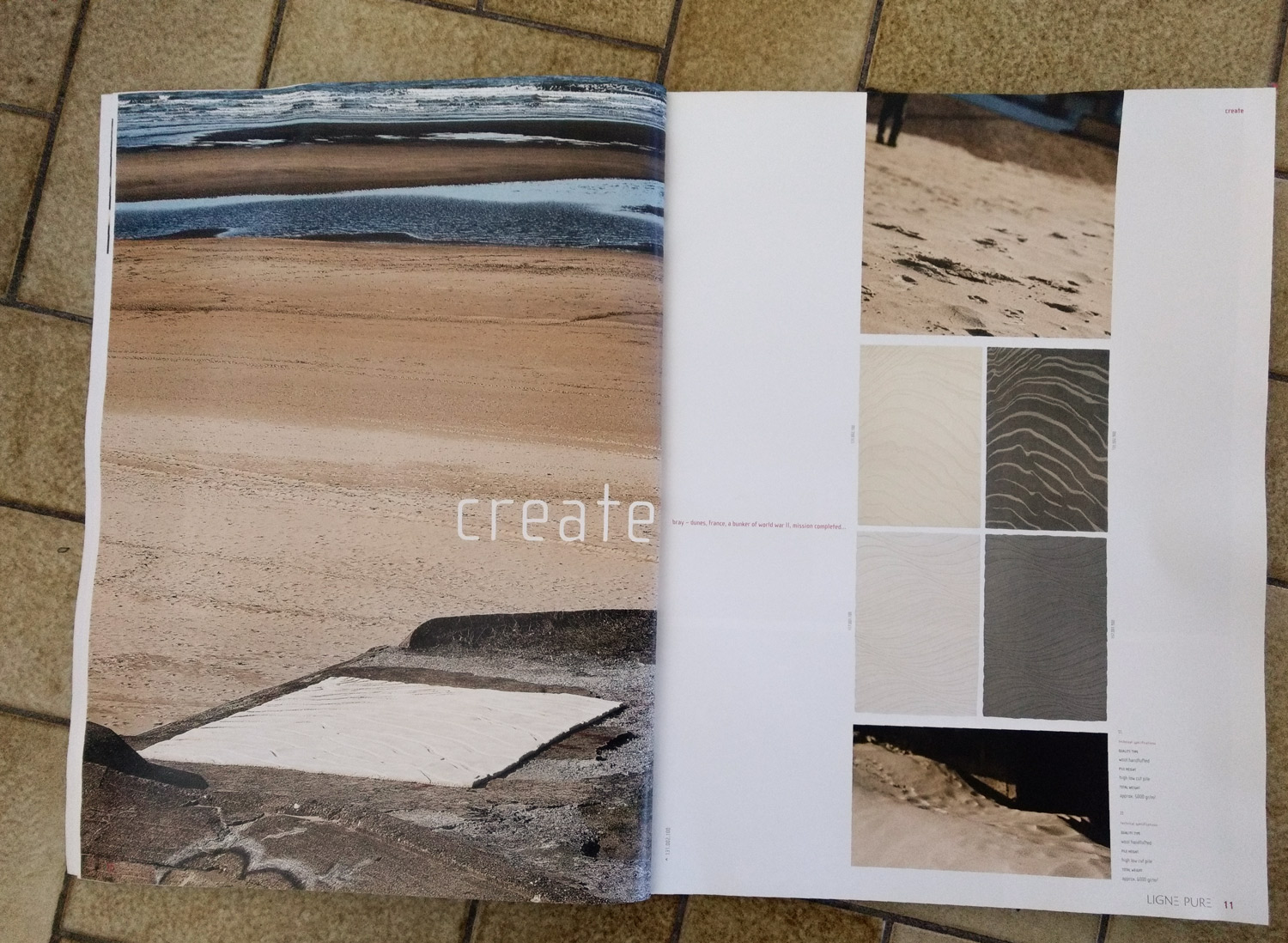 NL: Als interim voor een zwangerschapsverlof ben ik begonnen bij Ligne Pure en Osta Carpets te Deerlijk. Uiteindelijk bleef ik er wat langer dan eerst voorzien was en groeide er tot assistent marketing en product manager. Een boeiende ervaring, want ik had tijdens mijn bachelor textielontwerpen nagenoeg niets gezien over tapijten. Een hele wereld ging voor me open.
De collectie Ligne Pure sprak me het meest aan, gezien de grotere vrijheid en creativiteit op vlak van ontwerp en marketing. Ik was voornamelijk verantwoordelijk voor de trendwatching en marktonderzoek via klantbezoeken, internationale (design)beurzen, media, ... op die manier werd een volledig dossier ontworpen dat de jaarlijkse collectie bepaalde. Daarnaast deed ik de conceptontwikkeling en organisatie van de productcataloog: coördinatie photoshoots, location hunting, prijsonderhandeling, ... zie impressies van mijn laatste versie hieronder.
Uiteindelijk kwam er aan onze samenwerking een eind wanneer de marketing en product manager vertrok en nieuwe leiding Ligne Pure in een andere richting stuurde. Jammer, want ik vond het een topproduct - en dat mag gezegd worden!
EN: As an interim for maternity leave, I started at Ligne Pure and Osta Carpets in Deerlijk. In the end, I stayed a little longer there than originally planned and grew to assistant marketing and product manager. A fascinating experience, because I had seen virtually nothing about carpets during my bachelor's in textile design. A whole world opened up for me.
The Ligne Pure collection appealed to me the most, given the greater freedom and creativity in terms of design and marketing. I was mainly responsible for trend watching and market research through customer visits, international (design) fairs, media, etc. In this way a complete dossier was designed that determined the annual collection. In addition, I did the concept development and organization of the product catalog: coordination of the photoshoots, location hunting, price negotiation, ... see impressions of my latest version below.
In the end, our collaboration came to an end when the marketing and product manager left and new management sent Ligne Pure in a different direction. Too bad, because I thought it was a top product - and that may be said!